Installing Fascia and soffits in Manchester for more than 25 years
A6 Windows have been Installing Upvc Roofline in Manchester for more than 25 years this is the name given to the timber Fascias ,soffits and barge boards which finish off the area around the eaves or roof of your home and are open to daily attack throughout the year from snow, rain, wind and even the blistering summer sun.
We offer long-lasting weather protection for your home from the elements with our taylor made Upvc roof trim products and you'll be making an important, cost-saving investment fascia boards , soffits and guttering are among roofline components that play a vital role in keeping you and your home dry and help to prevent water damage in hard-to-reach places.Maintaining your timber fascias and soffits on your home is not only time consuming, it costs money too.Rotting timber can really let your home down causing structural damage,and water penetration . Before rot and decay set in your roofline consider replacing your fascias and soffits with our quality, weather-resistant, long-lasting UPVC (plastic)fascias and soffits,no more painting nor repairing, and know when the next bad weather hits, your home is protected?
The best thing about the range of replacement pvcu roofline installed by us is that once the work is done, you never have to give it a second thought.Our fascias,soffits, bargeboards guttering, downpipes and cladding do not warp, crack, flake, pink or peel. Ever. Just a clean once a year brings back that as new appearance
With A6 Windows unbeatable value-for-money and reputation for quality of service, call now and discuss your needs with our friendly staff You'll be surprised how inexpensive it can be to replace your old decaying fascias and soffits on your home and just think of the time and money you'll save on maintenance in the long term ! they will improve the look of your home, also add value to your home .
Being approved installers of Swish and Homeline upvc products enables us to offer an extensive range of Roofline products to suit you needs ,together they provide the best roofline system on the market for all areas of your home ,gable ends,garage garage roof,canopy, felt roof ,dormers .Our installers have many years of experience and workmanship is to the highest of standards Any roofer or roofing contractor can provide you cheap replacement fascias ,soffits and guttering but very often product quality or installation isn't as good and often the original timber fascias and soffits on your home are just capped over with thin upvc fascia All our work is total replacement roofline NOT covered over ,We use 20 mm thick upvc fascias .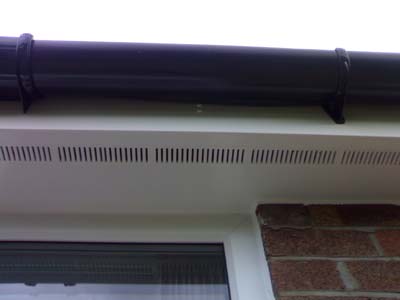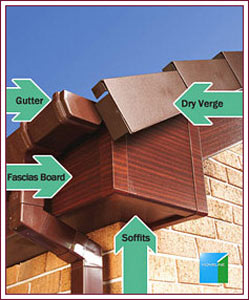 Ventilation
Circulating air in the roof space of your home reduces the build up of condensation which causes damp, mould and rotten timbers. Our Ventilation systems ensure a long-life for roof timbers. Choose between discreet over UPVC fascia ventilation or continuous soffit air vents to protect your UPVC roofline and roof from moisture retention ensuring you do not get damp into roof timbers We will be happy to provide a free estimate for you to compare our prices and are sure you will be amazed at the cost and quality of our product .
Benefits of upvc fascias, soffits, barge boards and guttering from A6 Windows
Completely remove all your old timber roofline, fascias, soffits, guttering and barge boards.
Slide the first row of tile back and remove all the old corroded felt.
Check all roof timbers for rot and repair as necessary
Attach 9mm solid uPVC soffit boards to the underside of the spars.
Attach 20mm solid uPVC fascia boards to the front of the spars.
Attach 20mm solid uPVC barge boards.
Introduce a new felt tray with concealed ventilation (bringing your roof up to the new building standards and allowing your roof to breath).
Install bird guard if required and requested.
Replace your roof tiles back into the correct position.
Inspect, replace and patch up all cement that has been dislodged.
Install new guttering at the correct fall to allow the water to displace quicker.
Install new down pipes.
Inspect the roofline installation with yourself .
Tidy up and remove all the debris from the site.
Related Links
DOWNLOAD BROCHURE FOR ROOFLINE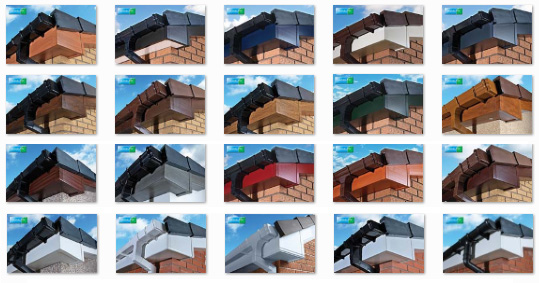 Discounts for Senior Citizens , Armed Forces and Reward the Volunteer scheme members
A6 Windows is committed to providing the finest products available, we will never compromise on the quality of our products or our workmanship. Our price promise to you is, if you find a cheaper quote in writing for your home improvements using the same quality of products, advanced installation techniques and backup service that matches A6 Windows, we will beat that quote or offer you a better product .
Diy Sos Manchester Homes for Veterans
and
Diy Sos Children in need