A6 Windows recently worked on Diy Sos Children in need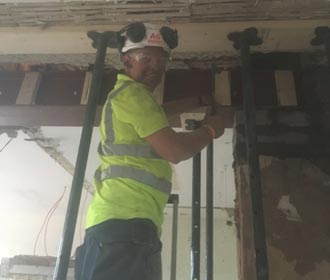 Paul installing timber to lintels
A6 Windows
has over the last 9 days contributed its skills along side other volunteers to help the BBC's DIY SOS Children in need project at Newton Drive Blackpool. Our team has been working alongside other constructions firms and volunteers to refurbish a large vandalized building bringing back into use for Blackpool young carers.
The Team have Stripped out floors plus joists then renewed , Taken out walls , erected walls , fitted lintels ,made planters for front patio area, as well as providing general labour and support in all areas of the project with every one helping others "Nick Knowles even said the BBC thought it impossible" Paul from A6 Windows cutting sleepers at 42.12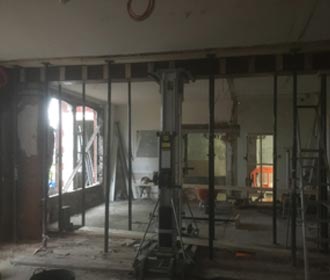 Lintels in place
Paul from A6 Windows found out about the project via an email sent by the BBC and promptly phoned customers up to rearrange jobs all of whom were fully understanding when they found out what A6 Windows was doing to help provide a home .for the young Blackpool carers to use as a respite home for children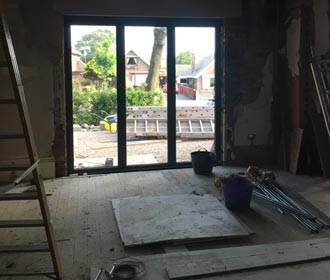 Plastering done
During the first phase, the empty properties were refurbished to create one larger adapted residential home for young carers and their families one complete with lift outside for wheelchair access, cafe ,boutique , and a walk-in support and advice centre .
The aim of the project was to create a place for young carers within the Blackpool community, the advice centre will have a private space for counseling .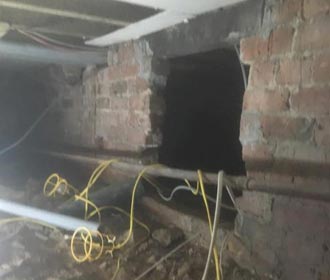 Propping under floors
Propping underneath the floors was a cramped and dirty job but was necessary to help the props up above carry the huge weight of the central walls while the lintels were installed enabling the wall underneath to be taken out to create one large room .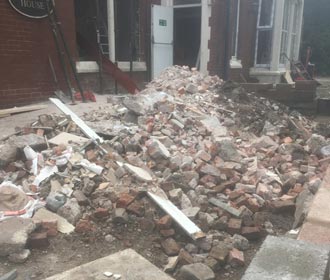 Building up front garden area
Nick Knowles, the BBC DIY SOS presenter, said: "We couldn't have done this without the amazing support of all these trades. The enormous amount of help – in time, materials, labour and much more- is a tribute to our nation's building industry."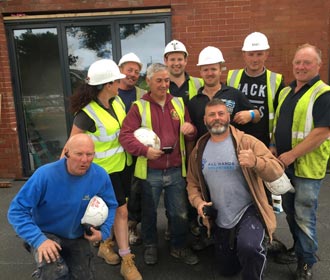 The front patio crew
The front garden area was a huge challenge requiring over 40 tons of hardcore to build up the levels before the patio could be laid enabling the fitting of the disabled lift with steps to the other side. We created huge planters from railway sleepers a new tarmac path then plants and turf could be laid to create a home to allow these young carers some respite .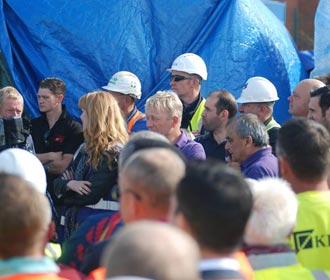 The reveal