Building Work & Construction Services
Replacement windows, doors, conservatories and roofline can often mean more than simple renovation of your home .
This is often not the case; there is a lot of variations house construction design and individual requirements that can involve building work, joinery, plastering, plumbing, roofing and electrical work. In our extensive experience we have completed many different variations of this work to ensure you can get the finished installation you require.
Brickwork removal:
A popular alteration to the rear elevation of a home is to turn a flat window into a patio door. If you intend to keep the existing width of the frame and just remove the brickwork below this is quite a straightforward installation. The external walls are cut out, the internal walls removed by hand, the new internal reveals are plastered and a new tread board is fitted. When patio doors are fitted radiators often need to be re-sited or capped off, sometimes plug points need moving too.
We often remove brickwork on windows for various reasons: to let in more light, to get a better view of the garden, or simply a design change. The most popular way of doing this is to remove one or two courses of brickwork below the window.Also some openings have arches above or do not have lintels were we need to remove brickwork and fit a new lintel in line with FENSA and building regulations.this would be our recommendation should we find loose brickwork
Making the aperture wider becomes a slightly more complicated installation. This involves installing a new lintel, either catnic or concrete lintels are used depending on the installation.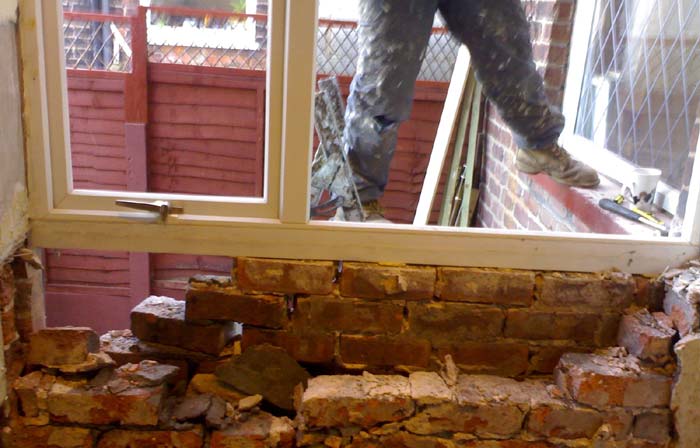 New brickwork:
Windows and doors are often reduced in size, such as blocking a door up in the kitchen or to give a brick pillar to build a new conservatory from.
Loose brickwork:
One of the things we will looking for when surveying your home for replacement windows and doors is loose brickwork above the frame. As a precautionary measure we will often install flat steels above new windows to provide additional support above the window for any loose brickwork.If movement above the aperture is more severe then we will need to install a lintel
Roofline installations also could need repairs to roof,roof trusses,roof flashing ,roofing felt,roof tiles,flat roof and at the extreme new roof.We do undertake other building jobs some we employ approved contractors for such as paving and imprinted concrete for patio areas .Any outside contractors/ builders we use have been vetted for quality of the work and tidiness
NON STANDARD WINDOWS
No problem! A6 windows can also provide solutions for non standard window shapes. You can have any sort of design including every type of round or square bays, to bow windows conversions providing a pleasing curved alternative to traditional flat frames. You can even have special shapes too – like round or circular windows, triangular shapes and every style of arch.
Discounts for Senior Citizens , Armed Forces and Reward the Volunteer scheme members
A6 Windows is committed to providing the finest products available, we will never compromise on the quality of our products or our workmanship. Our price promise to you is, if you find a cheaper quote in writing for your home improvements using the same quality of products, advanced installation techniques and backup service that matches A6 Windows, we will beat that quote or offer you a better product .
Diy Sos Manchester Homes for Veterans
and
Diy Sos Children in need