Soffits boards
uPVC soffits are designed to provide lasting protection for the underside of your roof's overhang.Both durable and made-to-measure for an exact fit, our soffits will look clean and attractive for many years ahead, which means no more climbing ladders to repaint your home every year.
Our white soffits come with an impressive 20 year guarantee on materials and workmanship and an unbeatable lifetime guarantee against discolouration. Our mahogany, golden oak, rosewood and ebony colour options also come with a comprehensive 10 year guarantee as standard. .Soffit boards are tucked away underneath the fascia board. The soffit can be ventilated to allow the flow of air into the roof area. Alternatively ventilation can be provided over the top of the fascia board. Many people prefer the latter solution these days. Without adequate ventilation, condensation will form in the roof void increasing the risk of timber decay on your home .Soffits aren't something people notice or look at, so quite often damage may go unnoticed for a long period of time making them considerably worse. It is recommended they are checked at least once a year for any signs of damage. Damaged soffits can lead to birds, bats and other unwanted pests nesting in your roof space which will make home repair work even bigger and more expensive.
The best thing about the range of replacement PVCu fascias and soffits installed by us is that once your home is done, you never have to give it a second thought. Our fascias,soffits, bargeboards guttering, downpipes and cladding do not warp, crack, flake, pink or peel. Ever. Just and clean once a year brings back that as new appearance
With A6 Windows unbeatable value-for-money and reputation for quality of service, call now and discuss your needs with our friendly staff.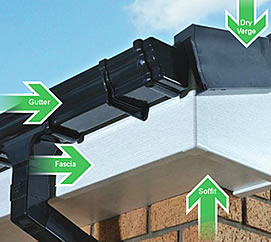 Benefits of upvc fascias, soffits, barge boards and guttering from A6 Windows
Completely remove all your old timber roofline, fascias, soffits, guttering and barge boards.
Slide the first row of tile back and remove all the old corroded felt.
Check all roof timbers for rot and repair as necessary
Attach 9mm solid uPVC soffit boards to the underside of the spars.
Attach 20mm solid uPVC fascia boards to the front of the spars.Attach 20mm solid uPVC barge boards.
Introduce a new felt tray with concealed ventilation (bringing your roof up to the new building standards and allowing your roof to breath).
Replace your roof tiles back into the correct position.
Inspect, replace and patch up all cement that has been dislodged.
Install new guttering at the correct fall to allow the water to displace quicker.
Inspect the roofline installation with yourself .
Tidy up and remove all the debris from the site.

Related Links
DOWNLOAD BROCHURE FOR ROOFLINE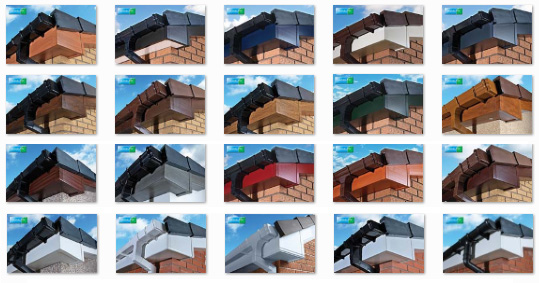 Discounts for Senior Citizens , Armed Forces and Reward the Volunteer scheme members
A6 Windows is committed to providing the finest products available, we will never compromise on the quality of our products or our workmanship. Our price promise to you is, if you find a cheaper quote in writing for your home improvements using the same quality of products, advanced installation techniques and backup service that matches A6 Windows, we will beat that quote or offer you a better product .
Diy Sos Manchester Homes for Veterans
and
Diy Sos Children in need