Rockdoor Stable Door Manchester
In addition to outstanding technical excellence , the Rockdoor Stable Door looks good too , home owners can choose from a wide range of colours including white , mahogany , rosewood , golden oak black , blue , green , red , grey both externally and internally .
For well over a decade now , Rockdoor has been manufacturing the ultimate high performance Stable Door and it is now fully CE marked. It is the closest thing to an original Stable Door . While it remains true to the traditional style, it has all the benefits modern door technology can offer for your home.
Top Quality
With fully adjustable hinges the stable door can be adjusted horizontally and vertically so it opens and closes perfectly every time. It also has a bespoke central seal so there are no draughts or leaks. And because it's manufactured to Rockdoor's high performance specifications, it offers security, durability and low maintenance as standard as well as being backed by a 10 year rock solid guarantee .
Our Rock door Stable Door is available with three sizes of glass in the top half of the door - Spy View , View Light and the new diamond, as well as a solid version with no glass.
The realistic wood grain surface makes it look and feel as stylish as a traditional wood door, with high "kerb appeal" unlike a upvc panel door. It's ultra robust, resists scratching and is easy to keep clean. A multi point locking system engages into solid stainless steel which runs the whole length of the frame. Your Rockdoor cannot be forcibly levered open and anti-drill plates prevent locks being drilled for high security. Plus the external frame is as strong as the door itself.Rockdoor exterior doors are so such strong and secure doors that even the police couldn't break in!
Rockdoors are designed to be one of the most secure doors on the market. Achieving PAS 23 & 24 and equal to secure by design ensuring you have high security doors , Rock door ensures that your safety and high security are our number 1 priority . Our stable door gives a unique blend of high security and performance - allowing you to open the top only keeping young children and pets secure whilst permitting fresh air into the house.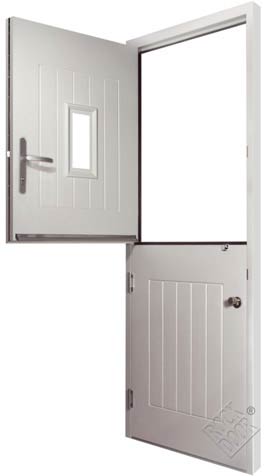 We can make rock doors composite doors to almost any size including double doors and arched frames . Any company can provide you a quote cheap replacement a cheap composite door,
Rock doors
installed by us have the following features often not found on
low cost cheap upvc composite doors
Specifications:
Anti-crow bar steel reinforced protector strip for security and rigidity
Aluminium reinforcement to locking stile (outer) and hanging stile (inner)
Full length multi point locking via dead bolt, latch and 2 hook bolts
Weatherproof anodized handle
Lock cylinder barrel made from long life self lubricating alloys
Concealed anti-drill plate inside handle. Aluminium reinforced door frame
High density polyurethane core, chemically bonded to outer skin means high thermal efficiency, nil expansion
High performance security hinges tested to 250,000 open/close cycles
Factory fitted toughened, double glazed units to BS Standard
Scuff proof, flame retardant 3mm wood grain embossed skin
High performance weather seal strip
Easy access extra low threshold for wheelchairs and pushchair's
Relative LinksROCK DOOR BROCHURE ONLINE Rockdoor select installed £649 including vat