Barge boards
Bargeboards are the boards which go up the gables or apex of your home protecting your home from the brunt of any bad weather. To start with, we use a solid board 20mm thick, for increased durability, which is fastened with stainless steel nails with polymer caps to ensure that no rust stains appear.
Of course, we make sure excellent protection looks its very best, which is why our bargeboards are available in a choice of five stylish colours - white, mahogany, golden oak, rosewood , ebony black and grey - to suit all styles of home from traditional to modern. Even our pin-heads are colour-matched, making them virtually invisible from the ground. New and replacment UPVC barge boards supplied and fitted by A6 Windows tick all the following boxes:
• Weather resistant
• Will not crack, rot or discolour
• Virtually maintenance free
• Available in several colours
• Come with our Free 10 year guarantee against corrosion and weatherproofing.
Apart from washing down occasionally there is nothing for you to do when you have UPVC barge boards fitted. Replacing rotting timber boards with UPVC boards will not only improve the appearance of your home but also give you peace of mind that they will not rot away, or discolour and need repainting .With A6 Windows unbeatable value-for-money and reputation for quality of service, call now and discuss your needs with our friendly staff.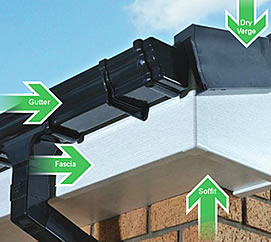 Benefits of upvc fascias, soffits, barge boards and guttering from A6 Windows
Completely remove all your old timber roofline, fascias, soffits, guttering and barge boards.
Slide the first row of tile back and remove all the old corroded felt.
Check all roof timbers for rot and repair as necessary
Attach 9mm solid uPVC soffit boards to the underside of the spars.
Attach 20mm solid uPVC fascia boards to the front of the spars.
Attach 20mm solid uPVC barge boards.
Introduce a new felt tray with concealed ventilation (bringing your roof up to the new building standards and allowing your roof to breath).
Install bird guard if required and requested.
Replace your roof tiles back into the correct position.
Inspect, replace and patch up all cement that has been dislodged.
Install new guttering at the correct fall to allow the water to displace quicker.
Install new down pipes.
Inspect the roofline installation with yourself .
Tidy up and remove all the debris from the site.
Related Links
DOWNLOAD BROCHURE FOR ROOFLINE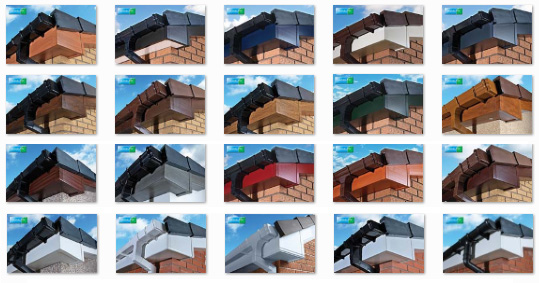 Discounts for Senior Citizens , Armed Forces and Reward the Volunteer scheme members
A6 Windows is committed to providing the finest products available, we will never compromise on the quality of our products or our workmanship. Our price promise to you is, if you find a cheaper quote in writing for your home improvements using the same quality of products, advanced installation techniques and backup service that matches A6 Windows, we will beat that quote or offer you a better product .
Diy Sos Manchester Homes for Veterans
and
Diy Sos Children in need